Aqua Axes
Tool/Weapon Information
Function
Combat, Swimming
User(s)
Gali, Wairuha Nuva
Status
No longer in use
The Aqua Axe were two, identical weapons used by Gali Nuva. The Swords had no powers of their own, however, like most Toa Tools, they could channel Gali's Water power through it. Gali could also use her blades as scuba diving fins. Gali discarded her Aqua Axes after she retrieved the Adaptive Armor and was teleported to Karda Nui.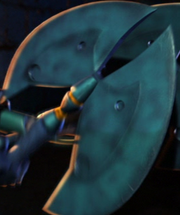 Set information
The Aqua Axes could be attached to Gali Nuva's feet. Also in the set a pair of rotors were included.
Ad blocker interference detected!
Wikia is a free-to-use site that makes money from advertising. We have a modified experience for viewers using ad blockers

Wikia is not accessible if you've made further modifications. Remove the custom ad blocker rule(s) and the page will load as expected.