| | |
| --- | --- |
| | This page is for set reviews. Here you can place down your opinion about a Bionicle set. |
You may be looking for the Baranus V7 page.
Rate the Baranus V7 set from 1 to 5.
Baranus V7 Reviews
Review Information
Name
Baranus V7
Set Number
'
Number of Reviews
3
Colors
silver, grey, green, black and orange
Element
None
Tools

Thornax Launcher
Sahmad's whip
Blades

Mask
None
Availability
Available
Review 1
Good
Bad
Spikit's electro blade shoulders are annoying.
Two heads is confussing
No tail
Hard to pose
No handle bars or a place for Sahmad to hold the reins.
Sum up
7/10.
Review 2
By
BobTheDoctor27 SAVE THE BANANA! Its a good source of Potassium!
Pros
Sahmad
A few new pieces that are good for MOCing or are new. (e.g. Helmet, arms, whip, or black Mantax Pincher)
Spikit/Baranus
Spikit heads are good for MOCing and there are two of them.
Lot's of gunmetal pieces for some reason. They look metallic and represents Sahmad's Tribe.
The wheels are spiky and two Matoro-Mahri-Twin-Cutters stick out to give a rough, jagged effect. Plus the chain makes it look more sinister.
The Spikit has a tail. (:-D) The fact is it short could represent a mark of captivity or a branding, which again creates a sinister image.
Lots of footspace: Sahmad has lots of room to stand and it makes him appear more dominent over the Spikit.
Cons
Sahmad
Feet: They don't really match the average Agori and stick out. They remind me how I cannot consider him as one of them and it goes out of his color scheme.
Either the head should have been a different color or the helmet should have covered more of his face. It looks like somebody's put a bag on his head and cut a hole out for his face.
He has a bad color scheme: The orange and black is and the grey hands are stretching it a bit but then Lego adds the silver feet and weapons. It ruins the color scheme.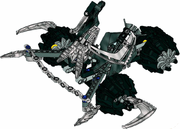 Spikit/Baranus
There are a lot of colors to both in the Spikit. It looks unprofessional and takes your eye off the complex body design.
The Spikit don't exactly look like they could even pose a threat to a Skrall, let alone devour one.
There isn't much room between the Spikit and BaranusV7. If the chain was longer then they wouldn't be crashing into each other.
Summary
The Baranus V7 is generally a good set. I enjoyed it and I like how it symbolises Sahmad's personality.
8/10 It's a good set but I'd get the Kaxium V3 first. ;-P
Review 3
by Baterra1202
Pros
It's a chariot.
Cool gunmetal color scheme on the chariot.
Chain
Sinister
Sahmad
Bladed thornax launcher for Sahmad
The Spikit has two heads and a cool color scheme
Green, orange and gunmetal go well together
Worth the price
Sahmad has a life counter
Whip
Excellent MOCing pieces
Cool wheels
Cons
Baranus does not have a life counter
Spikit does not have a life counter
Needs some other weapon besides Sahmads'
Summary
Oh yeah, it's worth it. Everything has to be considered, but it's a good set. My second favorite vehicle, next to Skopio, but not perfect. 9/10. Buy it.
Ad blocker interference detected!
Wikia is a free-to-use site that makes money from advertising. We have a modified experience for viewers using ad blockers

Wikia is not accessible if you've made further modifications. Remove the custom ad blocker rule(s) and the page will load as expected.