| | |
| --- | --- |
| | This page is for set reviews. Here you can place down your opinion about a Bionicle set. |
You may be looking for the Bitil page.
Bitil Reviews
Review Information
Name
Bitil
Set Number
'
Number of Reviews
3
Colors
Element
Shadow
Tools
Nynrah Ghost Blaster, Claws
Mask
Mohtrek
Availability
No longer widely Available
Review 1
This set Review is bought to you from User:Kingdonfin
Bitil is the Yellow Makuta from 2008, What do I think of him? Lets find out!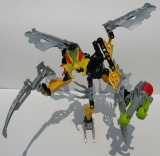 Pros
Yellow, Yay!
Creative wings
Good Mask
Cons
Long Neck!
To hard to shot
Overloaded
Summary
Altogether he is not a bad Bionicle but not a good one ether, Altogether a 5/10 for him!
Review 2
By -Matoro1 I HAVE NO PULSE!!! Wait... thats my foot!!!
Pros
Longswords: New! Look very good.
Cons
Neck: WAY too long, measures 5cm away from body!
Torso: You have got to be kidding! Way too small, simple, looks weird.
Wing -connector-limbs: Look too... 2001ish. That could have been improved.
red shoulder spikes: I don't know if this matters much but they keep moving in and out of position.
Yellow coloring: More dull than the "Keetongu/toa hewkii yellow".
Mask: The way the black merges with the yellow makes it look gray.
Overview
Overall, I would give this item a 4/10 due to his bizarre appearance. I would recommend this product to anyone who likes the original Toa Mata or weird-mutant-bionicles that look bad in real life.
Review 3
By:-Tuma55 (TBW Admin/Wiki Magna Bureaucrat/Skrall Team Wiki Bureaucrat/BRW Rollbacker ) 23:59, December 16, 2010 (UTC)
Pros
Cons
Mask doesn't look like a Kanohi
Nynrah ghostblaster odly positioned
Overall
A fairly good set. I give it 7/10
Review 4
Pros
Con
Overall
An OK set, not the first Makuta I would get, but still OK. 7/10
Review 5
By Aljarreau
Pros
Yellow Rahkshi limbs
Absolutely magnificent and insectoid-looking mask
Vahki head!
Interesting combination of Photok body and standard-length limbs
Two Onua shields
Yellow Slizer arms
Good weapons
Cons
Too much silver. How about yellow Onua shields here?
The feet are kinda too bulky parts, so are the Longswords
Conclusion
Combining parts we hardly saw during BIONICLE's last years (Vahki head, Slizer arms) in previously unreleased colors (Yellow!) and having a beautiful color scheme (really hornet-like), Makuta Bitil is my favorite set from 2008-2010 and should be bought not only for its great MOCing parts, but also for his overall beautifulness. I hardly can find any Cons here.
10/10