Calix
Mask of Fate
Power(s)
Allowed user to perform at physical peak
Kanoka
Unknown
Notable Wearer(s)
Jaller (fomerly)
Pronunciation
KAY-liks
The Kanohi Calix was the Mask of Fate. It gave its wearer the power to react at the absolute top of their natural physical abilities. This made them faster and better than almost any unenhanced member of their spieces. This led to seemingly impossible leaps, twists and dodging attacks.
Example Usage
Toa Jaller used his Calix to rescue Hahli from falling into lava by performing a near-impossible jump to save her in BIONICLE Legends 3: Power Play.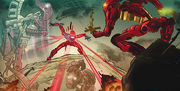 Known Wearers
Great
Matoran Jaller (Powerless in shape of Great) Formerly; became an organic Great version when he became a Toa Inika.
Ad blocker interference detected!
Wikia is a free-to-use site that makes money from advertising. We have a modified experience for viewers using ad blockers

Wikia is not accessible if you've made further modifications. Remove the custom ad blocker rule(s) and the page will load as expected.