| | |
| --- | --- |
| | This page is for set reviews. Here you can place down your opinion about a Bionicle set. |
Please note this page also includes reviews for the Cendox vehicle.
How would you rate this set?
Review 1
By
BobTheDoctor27 SAVE THE BANANA! Its a good source of Potassium!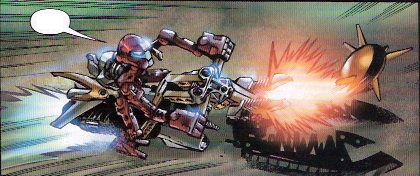 Pros
Crotesius
Effective color scheme. Nice use of the blue head for contrast to the red body. Reminds me a lot of Vultraz.
Seems new for some reason. The only new parts are his hands and helmet but he just seems to be unique...
A helmet that has a face on each side!
Life counter! (Can easy attatch the other way. I REBELLED AGAINST HTE INSTRUCTIONS!!!)
Cendox
Thornax Launcher
Tracks: Larger and more plastic solid than I explected. Doesn't provide much grip.
Effective design
Keeps inside color scheme
Cons
Crotesius
Midget feet! They could work had he not got the huge torso piece.
NO COOL WEAPONS!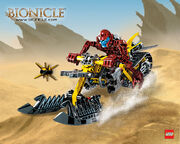 Cendox
Tracks have no grip and don't move much when you roll it across the floor.
Thornax Blaster isn't stably positioned. It keeps flopping down.
Overall
I think Crotesius is a cool set. I was expecting a more sleeker design but this one's still cool. The Cendox is awesome!
9/10 Get it second, after the Kaxium V3!
Ad blocker interference detected!
Wikia is a free-to-use site that makes money from advertising. We have a modified experience for viewers using ad blockers

Wikia is not accessible if you've made further modifications. Remove the custom ad blocker rule(s) and the page will load as expected.