Disk Launcher
Tool/Weapon Information
Function
To Launch Kanoka
User(s)
The Matoran of Metru Nui, Vakama (Formerly)
Status
Still in use
The DIsk Launcher is a weapon primarily used by the Matoran of Metru Nui. Basically all Matoran have them while walking around the city either for protection or for the sport Akilini. The Vahki also used these weapons and were fused onto their head. Toa Metru Vakama chose to have one of these weapons as his Toa Tool but his was specialized to suit him.
Some boats also had Disk launchers equipped to them.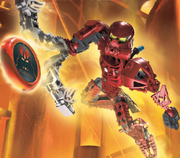 Example Usage
While the Toa Metru were trying to prove themselves as Toa and Vahki were sent against them, Vakama used his Disk Launcher to bring down a statue of Toa Lhikan and destroy the Vahki who were under it.
Users
Ad blocker interference detected!
Wikia is a free-to-use site that makes money from advertising. We have a modified experience for viewers using ad blockers

Wikia is not accessible if you've made further modifications. Remove the custom ad blocker rule(s) and the page will load as expected.