Fire Greatswords
Tool/Weapon Information
Function
Channeling Lhikan's Fire Energies
User(s)
Lhikan
Status
Destroyed
The Fire Greatswords were weapons used by Toa Lhikan Mangai. The Fire Greatswords had no enchanced qualities of their own but they allowed Lhikan to focus his Elemental Fire powers and could also be connected together to function as both a hover board and a Lava surf board.
The Fire Greatswords stayed unchanged when Lhikan became a Turaga and lasted until the Battle against Makuta Teridax, where the Makuta launched a shadow hand at Toa Vakama but Lhikan got in the way. The Fire Greatswords were absorbed and Lhikan later died.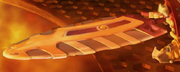 Set information
The Fire Greatswords were released with Toa Lhikan in 2004.
Ad blocker interference detected!
Wikia is a free-to-use site that makes money from advertising. We have a modified experience for viewers using ad blockers

Wikia is not accessible if you've made further modifications. Remove the custom ad blocker rule(s) and the page will load as expected.