"And here I thought Toa just wore masks to hide their ugly faces."
— Hakann, Comic 3:Showdown
Kanohi was the term given to a 'Mask', which had been crafted from a Kanoka Disk. Kanohi were worn by multiple species in the Matoran Universe. These species include Matoran, Toa, Turaga, Makuta and various other forms of Sapeint Beings in the Order of Mata Nui and Dark Hunters.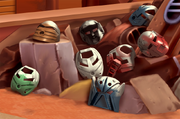 Legendary Kanohi
Great/Noble Named Kanohi
Other Kanohi
Unnamed Kanohi
Canonized Fan-Created Kanohi
Other Unnamed Kanohi
See Also
Ad blocker interference detected!
Wikia is a free-to-use site that makes money from advertising. We have a modified experience for viewers using ad blockers

Wikia is not accessible if you've made further modifications. Remove the custom ad blocker rule(s) and the page will load as expected.