| | |
| --- | --- |
| | This page is for set reviews. Here you can place down your opinion about a Bionicle set. |
Review 1

BobTheDoctor27 SAVE THE BANANA! Its a good source of Potassium!
Pros
Shelek: New mask, pretty cool. A lot of space between the top of it and his head, implies he had a 'big brain'.
Cool wing mechanism! I like how they casually fold aside.
Tridax Pod: That's always good.
Cool claws! They are pretty cool, the probably best hands of the year.
Good color scheme: Black and silver is always a great contrast but when you bring in lime green it looks surprisingly better!
He seems... sleek.
Cons
Not as much green in mask as in box image, nearly the entire mask is black except the fangs and a few bits near the eyes.
Tools: Hard to imagine him in battle with them.
A tad bit too humanoid.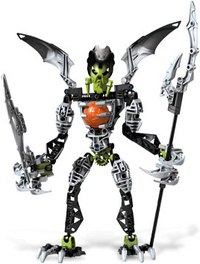 Overall
Mutran is pretty much the same as the other Matuka only he also includes Vican and has a big stick for a weapon! He seems extremly overpriced and there is no reason for the whole "Hard to find" business.
7/10
Review 2
Pros:
Mutran:
Amazing clours!
Tridax pod.
The wings fold up
Limited edition
claws look awesome
Great pieces for mocs!
Cons:
Just a repaint of Chirox
Vican
Pros:
Claws!
Mask.
Cons:
Wings dont move and stick too far back.
Full set Conclusion
9.8/10!
Ad blocker interference detected!
Wikia is a free-to-use site that makes money from advertising. We have a modified experience for viewers using ad blockers

Wikia is not accessible if you've made further modifications. Remove the custom ad blocker rule(s) and the page will load as expected.