"...I am summoning every last bit of moisture from the air for hundreds of kios around. I am merging it together, bending it to my will, preparing to unleash all my elemental power in one single explosion of force."
A Nova Blast is when a Toa releases all of their Elemental Power at once, creating a massive amount of their corresponding Element. Toa must wait for a long while before they can do another one of these, as it takes time for their Elemental Energy to recharge.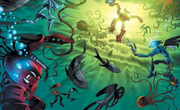 Example Usage
Gali performed a Water Nova Blast to defeat Icarax in the the Toa Nuva Blog.
Trivia
Toa Hordika cannot perform Nova Blasts although they can charge their Rhotuka to near Nova Blast levels and Turaga are unable to perform Nova Blasts at all.
Although Toa Ignika was not a real Toa, he could perform a Life Nova Blast.
Ad blocker interference detected!
Wikia is a free-to-use site that makes money from advertising. We have a modified experience for viewers using ad blockers

Wikia is not accessible if you've made further modifications. Remove the custom ad blocker rule(s) and the page will load as expected.