"Must Clean..."


The Bohrok are coming! And this article is a Stub! You must improve it before the Bohrok Swarms destroy it!
You may be looking for the Nuurakh Reviews.
Nuurakh

Species
Robots
Group
Vahki
Region
Ta-Metru
Colors
Dark Red, Grey
Weapons

Staffs of Command
Kanoka Disk Launchers

Occupation
Enforcing law in Ta-Metru
Status
Destroyed
Pronunciation
New-rahk

Nuurakh were a model of Vahki who patrolled Ta-Metru.
History
The Nuurakh were the Vahki that patrolled Ta-Metru. They were the fastest Vahki model, and they often ambushed their enemies. When Nuurakh couldn't find a Matoran who broke the law, they would often fight amongst themselves. Their Staff of Command could make a Matoran do a task overriding all other thoughts until the effect wore of hours later.
They were all destroyed when the Visorak invaded Metru Nui.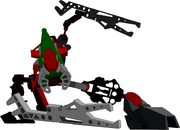 Trivia
The set Nuurakh came out in 2004 and it had 33 pieces.
Ad blocker interference detected!
Wikia is a free-to-use site that makes money from advertising. We have a modified experience for viewers using ad blockers

Wikia is not accessible if you've made further modifications. Remove the custom ad blocker rule(s) and the page will load as expected.