The Nynrah Ghostblaster was a form of launcher used by the Mistika warriors. There were two kinds.
The first kind was the type with a grey barrel and amunition. This was the type the Toa Mistika used, which allowed them to create a prison for whoever it stuck. For example, if it were fired at a Makuta, it would probably create a form of light prison as Makuta fear light.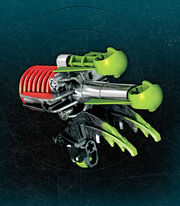 The second kind was the type with the red barrel and green amunition. This was the type that the Makuta Mistika wielded. This version allowed the user to control the mechanical parts of a target. For example, when Bitil used his on Onua, the Toa of Earth could not move as his mechanical muscles were locked in place.
Known Users
Ad blocker interference detected!
Wikia is a free-to-use site that makes money from advertising. We have a modified experience for viewers using ad blockers

Wikia is not accessible if you've made further modifications. Remove the custom ad blocker rule(s) and the page will load as expected.