Power Sword
Tool/Weapon Information
Function
Combat
User(s)
Jaller
Status
In use
The Flame Sword was a weapon used by Jaller Mahri.
History
Following the Toa Inika journeying into The Pit in search of the Kanohi Ignika, the Mask transformed them into new forms that were more equipped for them to work underwater. As a result, Toa Jaller's Energized Flame Swords was transformed into the Power Sword. Jaller used the sword throughout the Toa Mahri's mission in the Pit and afterwards as they had not been transformed back. Being a Toa Tool, the Sword had no powers of its own. However the sword it could channel Jaller's Fire power through it.
Set Information
The Flame Sword was released with Jaller Mahri in 2007.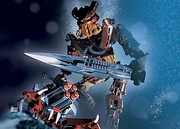 Ad blocker interference detected!
Wikia is a free-to-use site that makes money from advertising. We have a modified experience for viewers using ad blockers

Wikia is not accessible if you've made further modifications. Remove the custom ad blocker rule(s) and the page will load as expected.