Saw Blade Shield
Tool/Weapon Information
Function
Melee Combat
User(s)
Skrall, Tuma, and Mata Nui
Status
Currently in Use
The Saw Blade Shield was a weapon used by all of the warrior class Skrall. It could rotate or be thrown, creating a function similar to that of a chain-saw. It also can be used as a map to find the Valley of the Maze.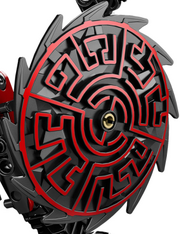 Set Info
The Saw Blade Shield was released at the start of 2009 with the Skrall. It was also on the lids of the 2010 BIONICLE Stars sets.
Ad blocker interference detected!
Wikia is a free-to-use site that makes money from advertising. We have a modified experience for viewers using ad blockers

Wikia is not accessible if you've made further modifications. Remove the custom ad blocker rule(s) and the page will load as expected.