Staff of Protodermis
Tool/Weapon Information
Function
To launch Protodermis and use Madness spinner
User(s)
The Shadowed One
Status
In Use
The Staff of Protodermis is a weapon used by The Shadowed One. It can create crystal like Protodermis strong enough to contain a Toa. It also has a Rhotuka Launcher which launches the Madness Spinner.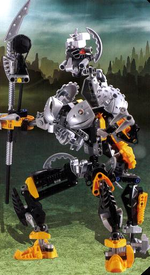 Example Uses
In Destiny War, the Shadowed One used this staff to suffocate a Vortixx by surrounding it's mouth with the Protodermis.
Set Information
The Staff of Protodermis was included in the Combiner Set.
Ad blocker interference detected!
Wikia is a free-to-use site that makes money from advertising. We have a modified experience for viewers using ad blockers

Wikia is not accessible if you've made further modifications. Remove the custom ad blocker rule(s) and the page will load as expected.