| | |
| --- | --- |
| | This page is for set reviews. Here you can place down your opinion about a Bionicle set. |
You may be looking for the Tarix page.
Rate this set from 1 to 5.
Tarix Reviews
Review Information
Name
Tarix
Set Number
8981
Number of Reviews
6
Colors
Blues and Gold
Element
None
Tools
Water Swords, Thornax Launcher
Mask
None
Availability
No longer widely Available
Review 1
By
Matoro1 I HAVE NO PULSE!!! Wait... that's my foot!!!
Pros
Helmet: Looks very good, a bit feminine but that is probably because we picture the blue characters as female. The helmet seems to have the expression of a promising character!
Thornax Blaster positioning: Allows him to shoot a one enemy while aiming his tools at another!
Color scheme: Dark blue and gold is good, the tools would be better if the light blue bit was the same color as the hands/feet.
Cons
Silver studs: Unneeded, get in the way when moving arms and are generally too big and threatening for a good guy.
Pipe: The end that links to the blue pin/life counter is strained and keeps popping out! Also, having a device that lets you breathe water in a desert is petty unneeded!
Toa Metru legs: SHABBY!!!!
Summery
This Character is overall quit effective! I would say he definitely gets a 9/10!
Review 2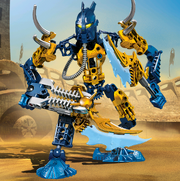 Pros
New Launcher
Cool Helmet
Gold Armor
Light and Dark Blue!!!!!
Cons
Super Skinny
Weird Launcher Position
Review 3
- KingDonfin Toa many easter eggs. Chocolate........ CIMME, GIMME!!!!!!!! 07:37, 26 April 2009 (UTC)
Pros
New Weapons
Awesome helmet
Watery appearance
Great color scheme
Pipe!!
Cons
Too skinny
Why is the Thornax launcher like that?
Spikes can get in the way.
Overall
Well Tarix is an Awesome set, 9/10 from me!
Review 4
Pros
Gold
Pipe
Light blue hands
Green head
Launcher attached to liquid blade
Cons
Spikes break off easily
Boring after a few days
Overall
I have to admit Tarix is a good set. I would rate it a 9/10.SO GET HIM NOW!!
Review 5
By
MarvinTheMartian I'll blow up the Earth! It obstructs my view of Venus!
Pros
Great color scheme.
Inika feet in Mata Blue and other awesome recolors!
Awesome blades.
Cool,Viking looking helmet.
Cons
Inika clone, even thinner than before!
Feet and hands are the only Mata blue pieces.
Breathing tube looks cool, but way too technological for Bara Magna.
Odd proportions as usual.
Shoulder spikes come off too easily.
Rubbery blades. Seriously, why?
Overall
If you're a MOCer and you're looking for cool pieces and recolors, this may be the set for you. If you're looking for a set to play and posing, I'd suggest some other set. Overall 7.5/10
Review 6
By: -WaterLord 22:17, January 14, 2011 (UTC)
Pros
Gold makes good contrast against dark blue
Cons
Blades are a little too long
Thornax Launcher looks weird attached to blade
Overall
A good set but not one of the best 2009 sets. 7/10
Review 7
By MATORO58
Pros
Thornaxx launcher on Water sword
Has a nice tube
Cool shoulder blades
Cons
Feet and hand colors don't match
Looks more like a glatorian of Psioncs
Thornaxx keeps getting lost
​Results
I would've given it a 6/10, but him and Berix I got at the same time, and they were my first Bionicle sets. 9/10
Ad blocker interference detected!
Wikia is a free-to-use site that makes money from advertising. We have a modified experience for viewers using ad blockers

Wikia is not accessible if you've made further modifications. Remove the custom ad blocker rule(s) and the page will load as expected.