"Must Clean..."


The Bohrok are coming! And this article is a Stub! You must improve it before the Bohrok Swarms destroy it!
The Toa Mahri were a team of Toa. The team contained six Toa of the six main Elements.
History
Toa Inika
After Pridak touched the Ignika, it sent a cry of help to the Toa Inika, transforming them into Toa Mahri.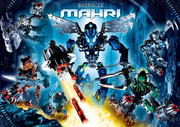 Members
These are the Toa Mahri:
Ad blocker interference detected!
Wikia is a free-to-use site that makes money from advertising. We have a modified experience for viewers using ad blockers

Wikia is not accessible if you've made further modifications. Remove the custom ad blocker rule(s) and the page will load as expected.