Toa Metru
Toa Metru Information
Species Affliation
Toa
Allies
Lhikan, Matoran who knew the location of the Great Disks, Keetongu, Rahaga, Karzahni (Briefly)
Enemies
Teridax, Morbuzahk, Vahki, Rahi, Dark Hunters, Karzahni, Visorak
Leader
Vakama
Homeland
Metru Nui
Goal
Protect the Matoran of Metru Nui (Formerly)
The Toa Metru were a team of Toa.
History
Toa Metru
Coming soon
Members
These are the Toa Metru: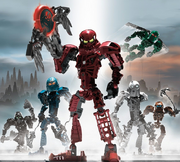 Ad blocker interference detected!
Wikia is a free-to-use site that makes money from advertising. We have a modified experience for viewers using ad blockers

Wikia is not accessible if you've made further modifications. Remove the custom ad blocker rule(s) and the page will load as expected.